How to Update Firmware OFFLINE - Nintendo Switch with ChoiDujourNX
This guide will walk you through updating the system firmware of a Nintendo Switch Console without going online.
Warning
You are solely responsible for anything you do to your switch. Make sure your battery is at 100% charge before you begin. If your console loses power during a firmware update, this could cause you problems.

IMPORTANT: Backup everything from your SD card onto your PC before you begin. You will need at least 30GB of free space to follow this guide.

=========================
PREPARATION
First thing you should do is make sure you are running SX OS 2.0 or later
[
Download From Here
]
Make sure you have at least 30GB of free space available on your SD card.
Next, perform a full Nand Dump. This step is not "required" per se, but is SUPER MEGA HIGHLY recommended so you have something to restore should you run into a problem during firmware installation.
Without this backup, if you end up with a problem while messing with your firmware, you could end up with a paper weight. Please, do not skip this step!
Hold Vol+ while booting to enter the SX OS Bootloader and tap "Options"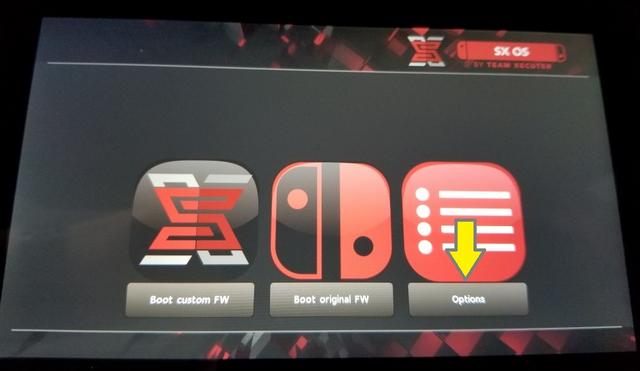 Tap the NAND button on the left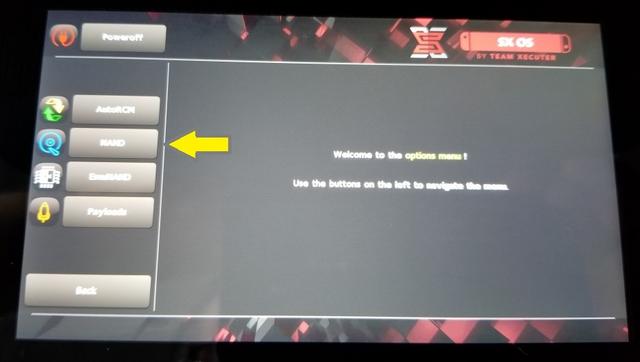 Tap Dump NAND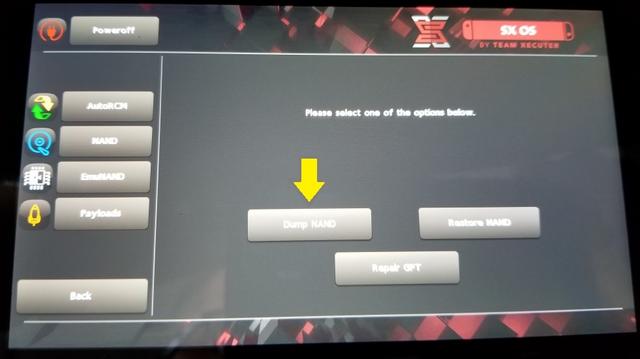 Tap on Continue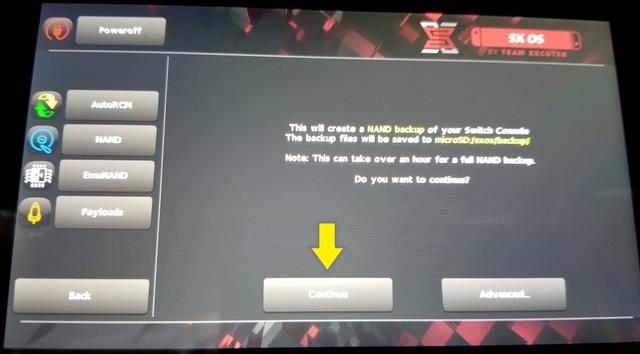 As stated on screen, dumping your NAND will take about an hour. So plug your switch into power and go do something else for an hour. (This took 1 hour and 14 minutes for me)
Once the backup is completed, tap Power Off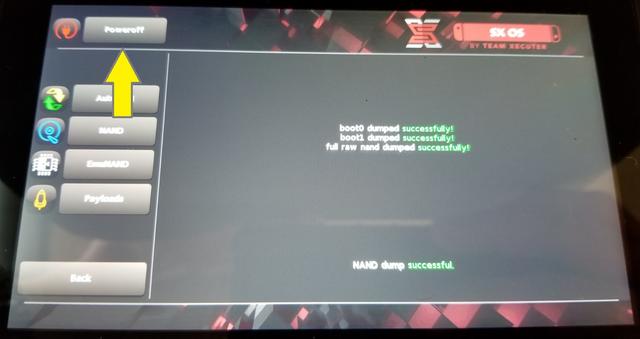 Take your SD card out of the Switch and insert into your PC to make a copy of your backup.
The backup is created in a folder named "SXOS". Open that folder and you will see a "backup" folder. Copy this folder off of the SD card and store it in a safe place. Make multiple copies and store in multiple places. If you ever need a backup, you don't want to lose this.
Now that you have your backup copied multiple times and in multiple places, you can delete the backup folder from your SD card to regain the storage space.
=========================
UPDATING
Reminder: You will need to use SX OS 2.0 or higher as ChoiDujourNX does not work on the lower versions of SX OS.
In order to update the switch firmware you will need a few things.
The NX-firmware you want to install
- These can be found
HERE or HERE
[Do not use the 6.0.0 (Pre-Release) as it is different from the actual Release version.]
Be sure to use a program such as

MD5 Checker

to verify your .zip file after downloading. If you try to use a corrupt firmware, you are going to have a bad time.
If you are not able to find the firmware you are looking for, you can retrieve firmware files from another switch that has already been updated.
Follow THIS GUIDE

for more information

.
ChoidujourNX v1.0.2
: Download
HERE --
(Credit goes to rajkosto -- there is a donation link at the bottom of the official download page)
Unpack ChoiDujourNXv102.zip and place the ChoiDujourNX.nro file on the root of your SD card.
Create a folder on the root of your SD card called "Firmware", and extract the contents of your NX-firmware .zip file into this folder.
Now you are ready to to install your update onto your Nintendo Switch Console.
Put your SD card back into your Nintendo Switch and boot into SX OS CFW.
Open the Album to trigger the SX Menu.
Use the "R" button to navigate to the HOMEBREW section.
Launch ChoiDujourNX.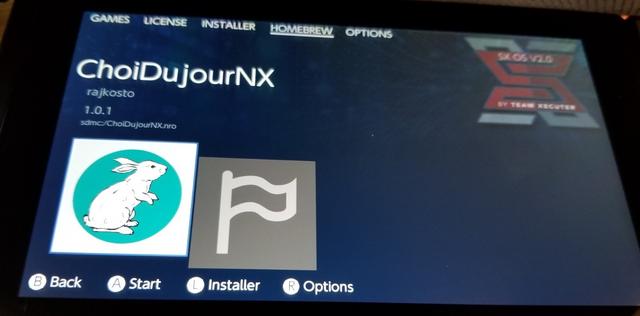 Navigate to your firmware folder, it should contain a lot of .nca files. Tap the Choose button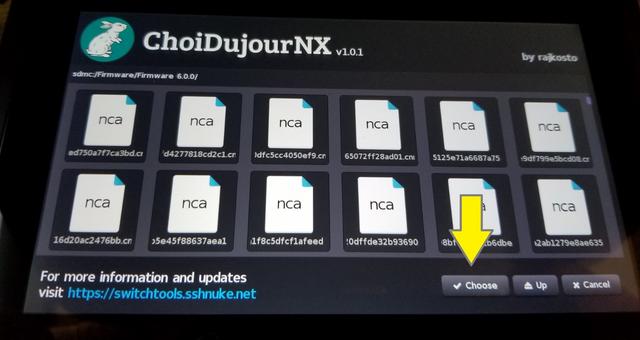 Tap the (exFAT) option for your firmware. Unless you have a very specific reason not to, you should be using exFAT for the best compatibility and support for files larger than 4GB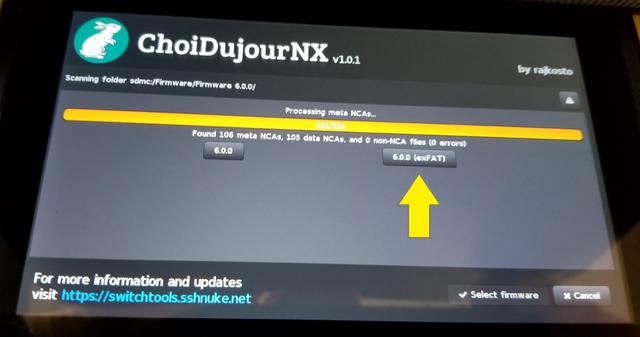 After the software is finished analyzing the firmware, tap the Select firmware button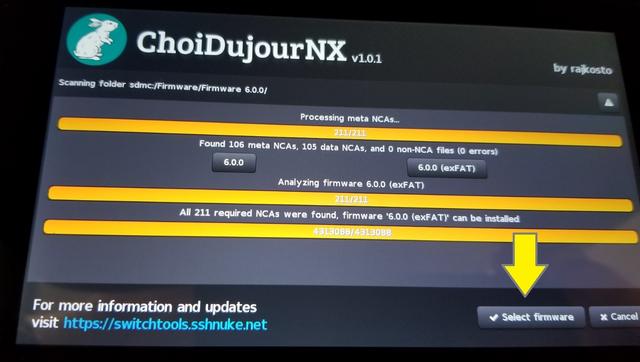 Tap Start installation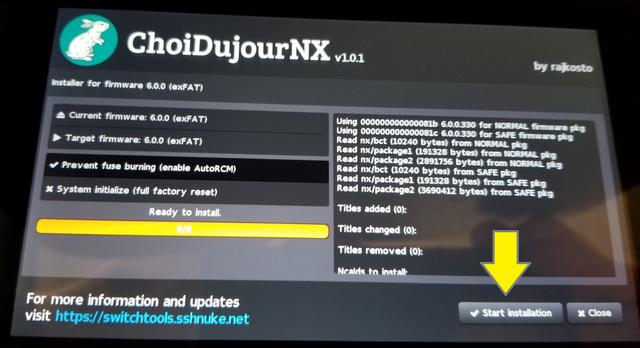 WARNING - IF ENABLE THE SYSTEM INITIALIZE OPTION IT WILL PERFORM A FULL FACTORY RESET! YOU HAVE BEEN WARNED!!!!!
If you do happen to erase everything, just restore your nand dump.... that's the whole reason it was created to begin with.
--- You will see in my screen shot that I am already using firmware 6.0.0 and the target firmware is also 6.0.0, so your screen may look a bit different. ---
Next, tap the Reboot button in the bottom right corner. This will start a coutdown to reboot. You can tap Reboot Now! if you want.

This will reboot the console into RCM mode. Using your Pro dongle, or your typical method, boot into SX OS.
You are done. Your console should now be updated to the firmware you have selected.
Note: This guide is not intended to cover information on efuses or emunand. If you have questions concerning these topics, please start a new support thread and ask.
Last edited: