Is this method right?
You should consider this before starting. If you follow this tutorial by the book, you should get your Xbox 360 flashed/unlocked to play backup games. I'm not responsible for any damage caused to your console.
0) Remember to properly configure the SATA controller of your motherboard's BIOS(Setup) (just google the default config, avoid AHCI). And always update your motherboard's drivers to the latest.
1) If you are using Windows 7, run JungleFlasher as administrator.
2) Before unlocking, install the latest version of . NET Framework.
3) If using the Xbox as own source of energy, do not forget to plug the video cable if you don't it will shut down after a few minutes, but remember that this practice has big chances of flagging for ban. Without the video cable connected there is no danger of flagging the console, but you have to be fast, because the console turns off after 5 minutes.
4) There are consoles with 9504 label, but it's actually 0225 that were wrongly labeled.
5) Actually it was confirmed that the new dashboard 13XXX changes the firmware of DVD drive in PHAT and SLIM. With 9504 it gives you a SPI Lock. (But luckily with MRA Hacking you can unlock it)
6) Dashboard 12625 is the safest one if you don't want to reburn your games(You won't be able to play on LIVE).
There are two types of integrated circuit (IC) in 0225 and 0401 drives: MXIC and Winbond.
To unlock MXIC chip you will need a resistor of 10 ohms. To unlock Winbond you will not need a resistor.
There are drives that have the 0225 sticker 9504, for this model it should be followed using LTPlus-0225-v1.9u.bin
Once unlocked, the SPI is with status 0x0, to upgrade to other versions you won't need MRA to put drive in vendor mode, just click on "Intro / Device ID" and do the power trick.
A secure solution for Lite-on drives with Winbond Chip is to replace the drive with a 0225 for a 9504. This is NOT spoof, 0225 and 9504 drives are the same model (DG16D4S), hence same hardware, which makes the exchange 100% secure. As it was in Xbox Phat with Lite-On drives DG16D2S
F.A.Q. - Frequently Asked Questions
01) Lite-On DG16D4S 9504 with 13599 dash becomes 0272 with SPI locked. If the drive has MXIC chip simply do the MRA Hacking, if you have Winbond chip you will need to replace the PCB or drive.
02) See the picture below to identify the chip on your drive.
-----------------------------------
I hope this tutorial helps all those who want to try.
Unlocking Xbox 360 Slim 0225/0401 is pretty simple and I assure that anyone paying close attention to this tutorial can do it.
It is not necessary Lizard or X360USB, simply plug the drive into sata port of your PC
If your motherboard chipset is Intel probably it is VIA so you don't need to anything in your Bios setup but if your chipset is generic or if you're using AMD processor, you will need to change your sata controller to Legacy Mode.
I dedicate this tutorial to the staff of the forum, and C4EVA Jungle Team.
The unlocking is basically made by taking two steps: Dumping and Writing.
First download and configure JungleFlasher 0.1.85(or latest) and iXtreme LTPlus-0225-v1.9.bin 1.9 (or latest) for 0225 drives and iXtreme LTPlus-0401-v1.9.bin 1.9 (or latest) for 0401 drives . They can be easily found in Xbins (download the program Xbins.exe on google)
Unzip JungleFlasher and unzip iXtreme into JungleFlasher firmware folder.
You will also need Sputnik Unlock_16d4s for MXIC and Geremia Unlock for Winbond.
Disassembling the Xbox 360 Slim
http://www.team-xecuter.com/forums/showthread.php?t=61651
Disassemble Slim, plug the drive into SATA port, power on the drive and open JF (no need to start windows with the drive attached, it can be plugged after windows has loaded)
To do the MRA Hacking you will need to cut a trace on the drive PCB(Printed Circuit Board). Have in mind that it is done to interupt the current signal. You need to take care when soldering it back, be aware not to solder the trace to the ground. I recommend using a wire to redo the trace as picture below (the new JungleFlasher 0.1.86 does this trick, but I'm telling you the hardware way to do it) :
Cutting the trace: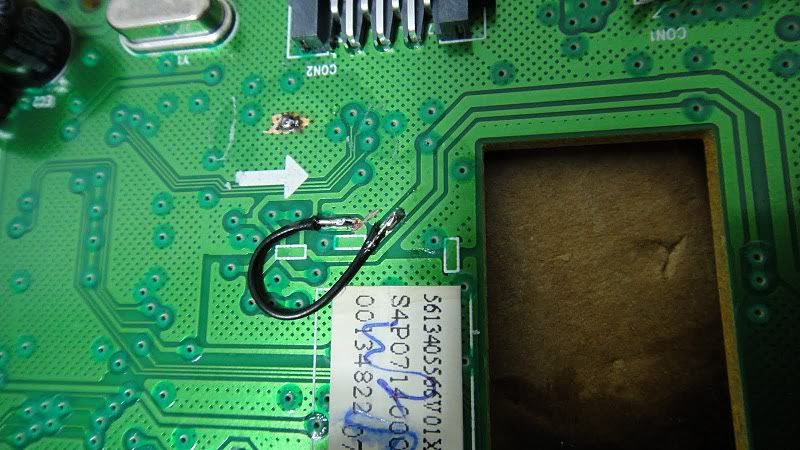 Dumping::
• Connect a sata cable to your xbox 360 drive and plug it to a sata port on your PC (preferably a master port, the port I used was SECONDARY MASTER), do not turn PC on yet.
• Turn on your xbox 360
• open and then close disk tray
• Turn on your PC
• Go to the tab dvdkey32 on JungleFlasher 1.85 and on I / O port select the port where the drive is connected.
• Click slim key, and for the window that will pop up click no.
• Next window, you will be asked to save the key, choose the best place to store the key safely!
• Done, key dumped!
You can also use a SATA/USB adapter. ( you will need to use a sata cable to connect to the adapter and your pc, then connect the usb cable to your xbox 360 and follow the same steps above)
Writing CFW iXtreme on Lite-On DG16D4S Drive with MXIC chipset:
Step 01
Open your CFW on target, as shown below:
Step 02
Do the MRA as shown below: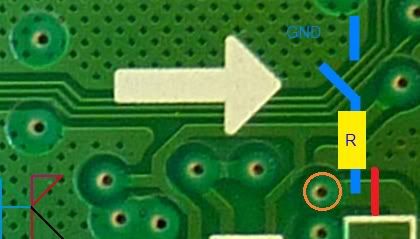 See that the trace is interrupted, you can also scrape that part of the trace and cut it, follow the same trace and scrape again to (resolder using a flexible wire when the job is finished).
Step 03 - With the drive off, click Intro / Device ID. Click YES, stick the resistor into the point indicated in the picture and turn the drive on. It goes into Vendor Mode at the time with 0x72 status.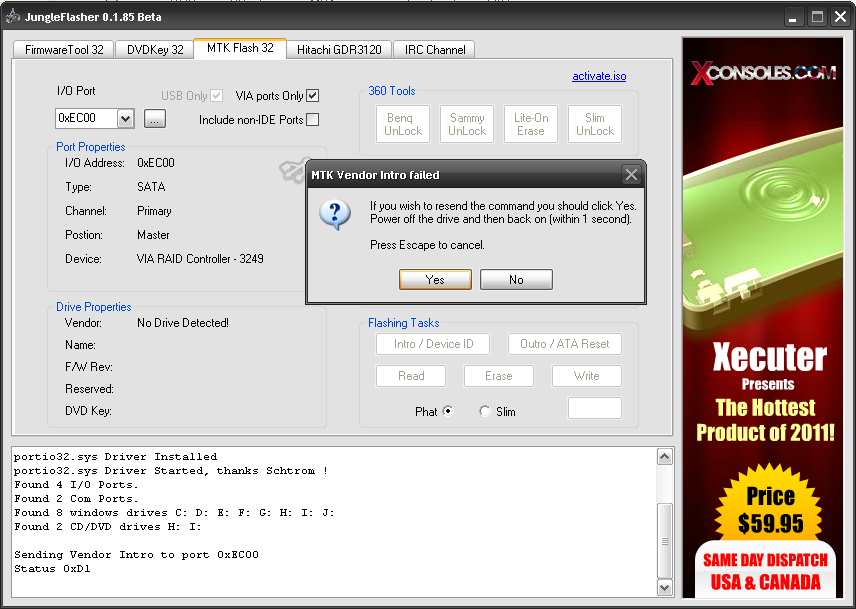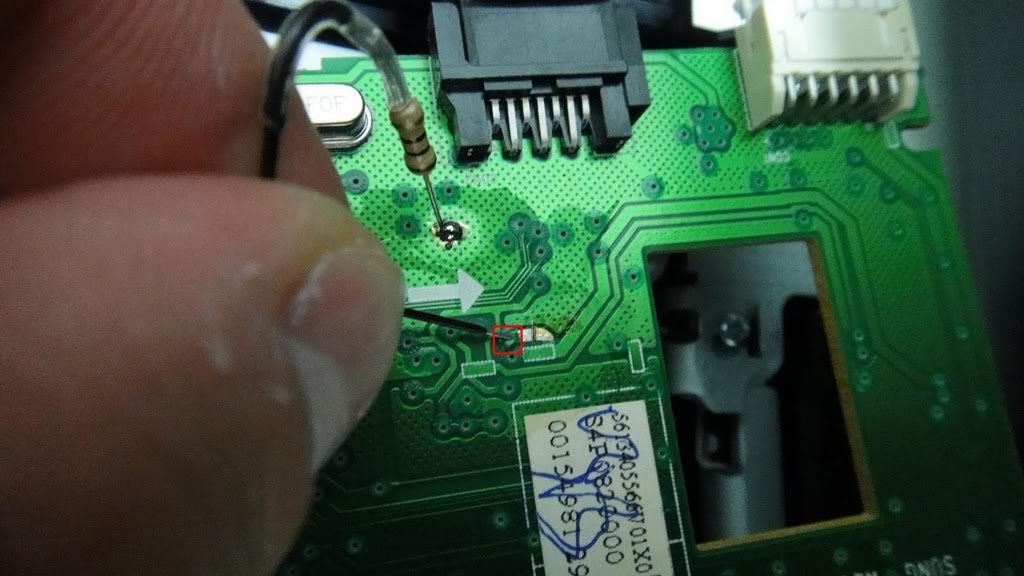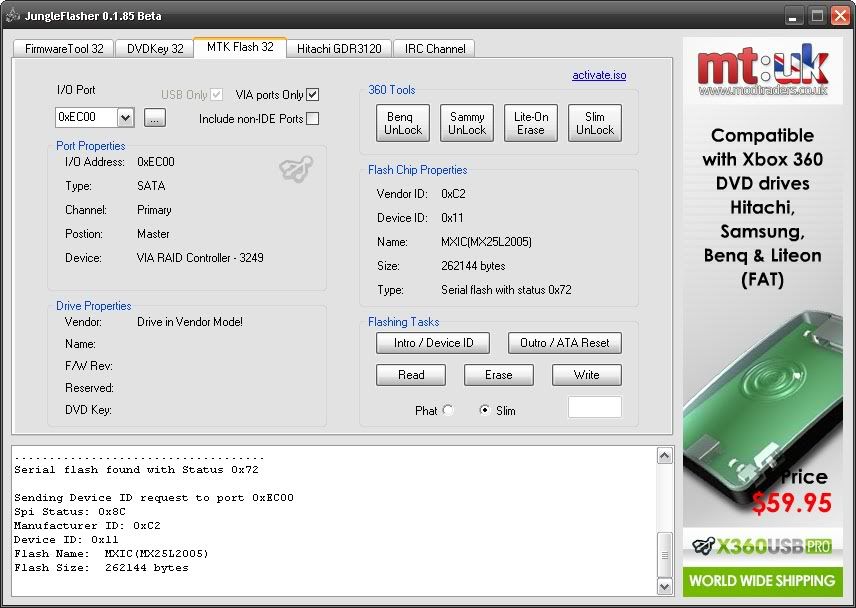 Step 04 - With drive in Vendor Mode, start program Unlock_16d4s
- ON THIS PROGRAM YOU SHOULD PUT YOUR SATA PORT NUMBER, THE SAME USED IN JungleFlasher, see picture below:
Step 05 - ON Unlock_16d4s program click READ Status, you will get 0x8C status, this means that the drive is write protected.
Step 06 - Again, with the drive on, stick the resistor into the point indicated in the picture: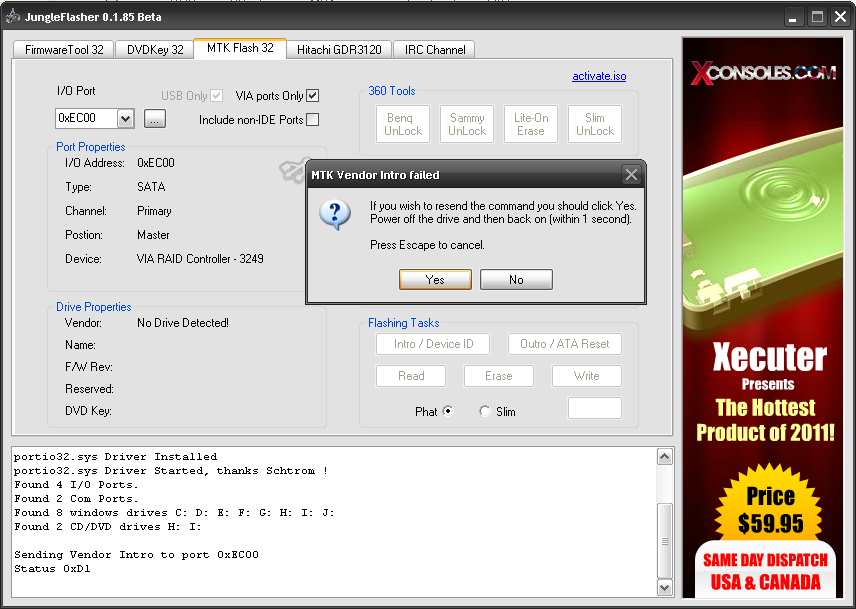 Step 07 - ON Unlock_16d4s program click Unlock Drive, you will get 0x0 status, this means that the driver is unprotected against recording, then you can take the resistor out.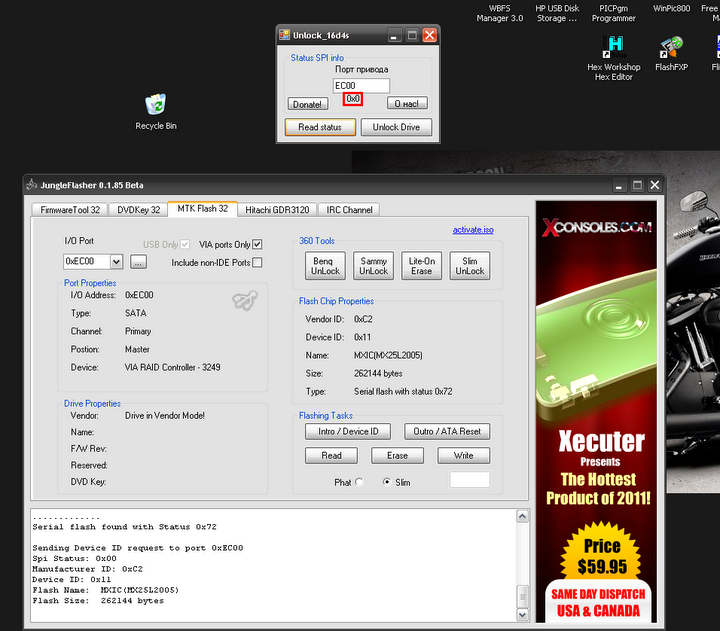 Step 08 - Now just click on WRITE then JF will write the CFW as usual.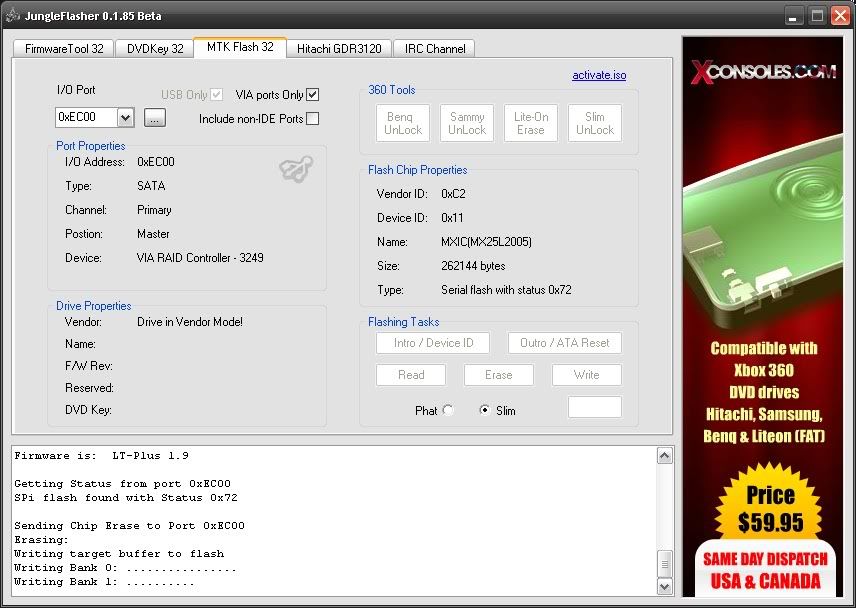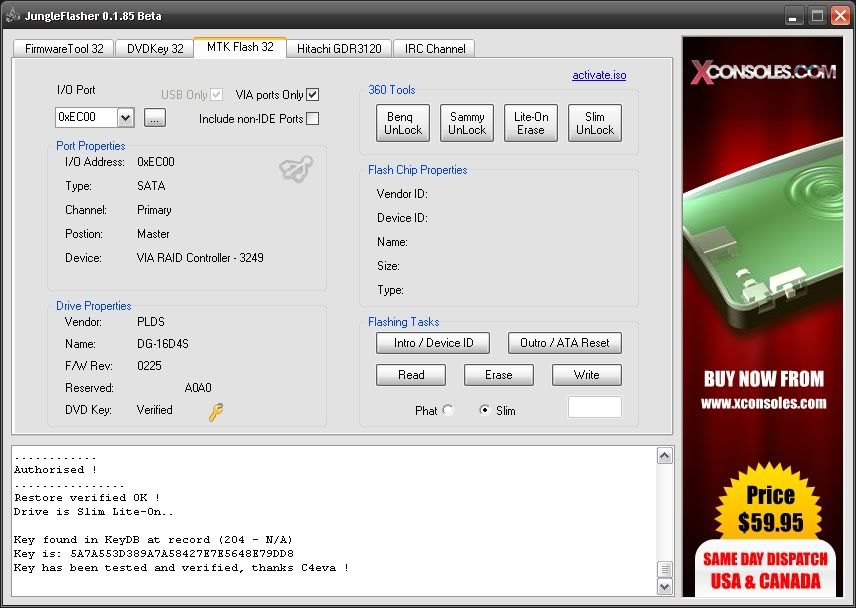 Step 09 - Resolder the cut trace and have fun playing your Xbox 360 with backup games.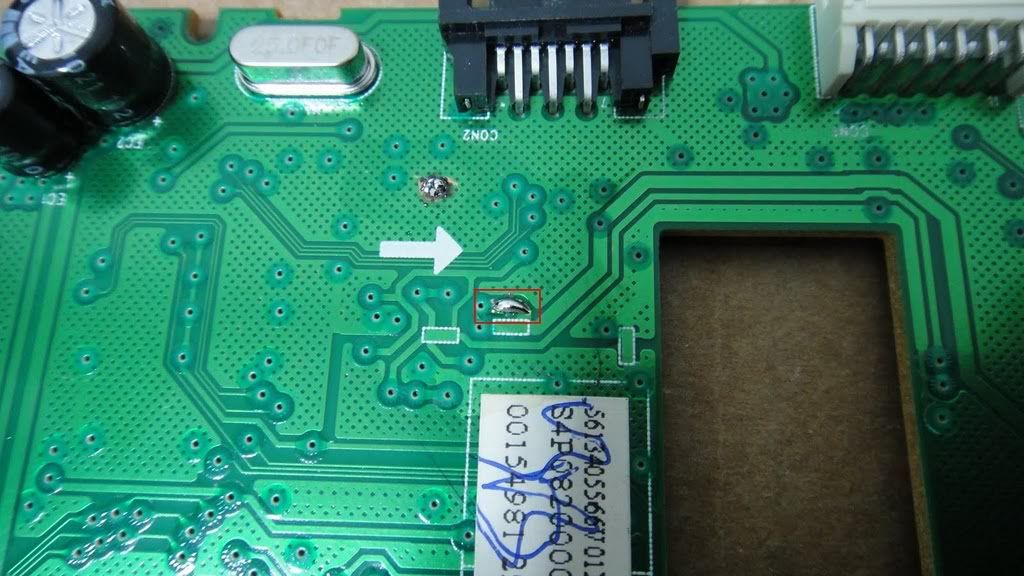 or do as I said in the beginning of the tutorial: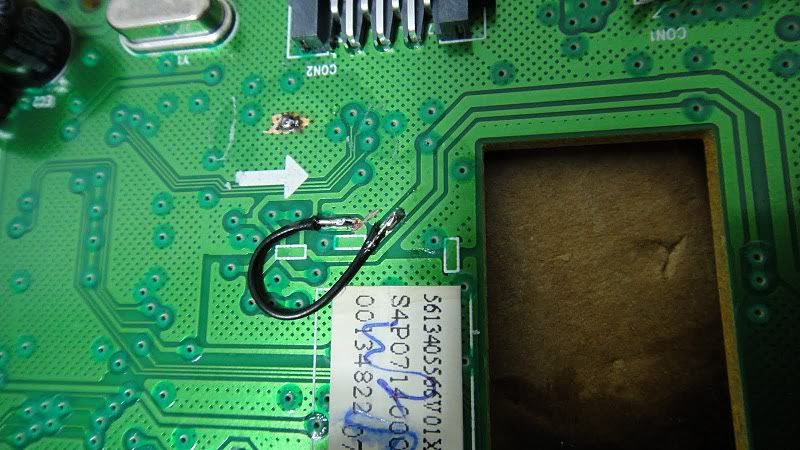 Has anyone tried this, by following this tutorial?