WHY ISN'T MY PRO DONGLE WORKING?
Info
Firstly, you need to follow THIS GUIDE to be sure your switch is "hackable"
Once you determine it is - then proceed.
There are a few reasons why the TX SX Pro dongle doesn't work as you expected.
If you are having trouble please follow these steps.
#1.
Make sure your TX SX Pro dongle has a charge.
The recommended way to charge the dongle is to ONLY use the supplied micro USB cable and plug into a USB port on your PC.
The dongle only takes 5-10 seconds to charge.
The LED light on the Pro dongle should light up Green.

If the LED light does not turn green quickly unplug and replug the usb cable from the PC and wait 5-10 seconds.
If the LED is still not lit up, then your pro dongle may be defective. Contact your reseller with questions.
#2.
Use a freshly formatted Micro SD card and place a new copy of boot.dat onto the root of the card.
If you already have an activated license, you can copy license.dat to the card as well.
#3.
Next you need to make sure your switch is turned COMPLETELY OFF. If you have enabled AutoRCM in the past, it may be difficult to know if your switch is off.
The easiest way is to push the power button one time. Then wait for 10 seconds, then PRESS AND HOLD POWER FOR 15 SECONDS
Your Switch should be completely turned off now.
Insert the jig and the Pro Dongle into the switch
Hold the Vol+ button down and Press the Power button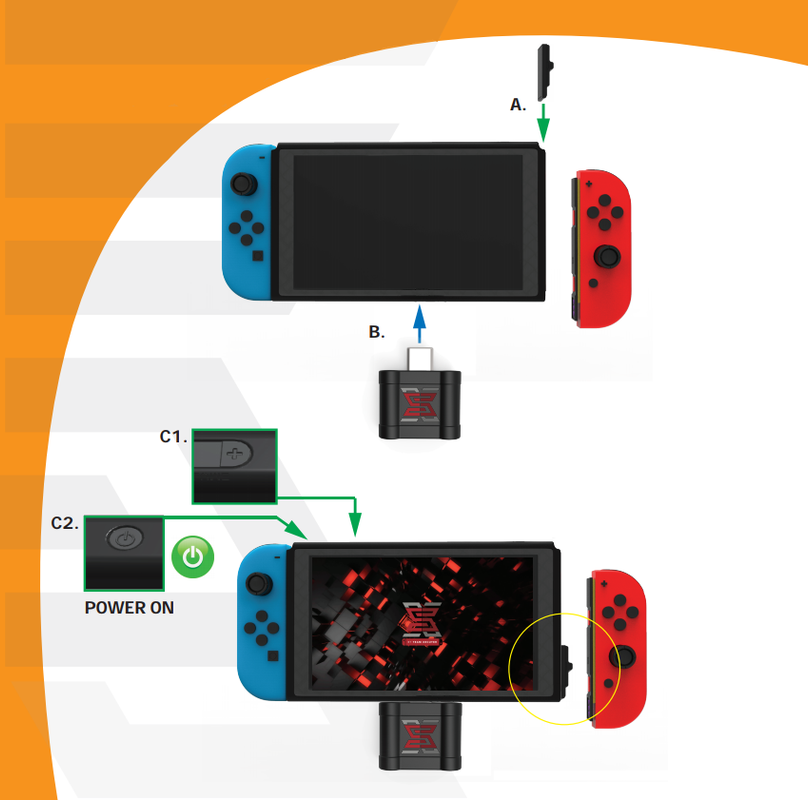 You should be greeted with the SX OS BootLoader Screen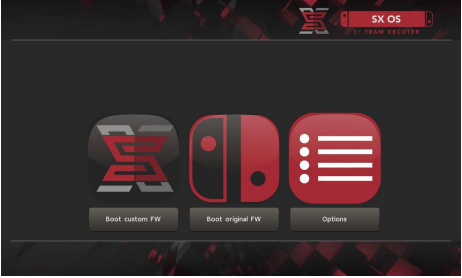 #4.
When this screen shows up, this means your Pro Dongle is working fine.
If not, then proceed to Step 5.
If you had issues booting up your switch previously, it could be that AutoRCM is enabled.
When AutoRCM is enabled YOU MUST HAVE THE PRO DONGLE INSERTED EVERY TIME YOU TURN YOUR SWITCH ON! (You could also send payloads from an external source such as PC, cell phone, etc...)
Touch the Options button.
If you wish to disable AutoRCM, then tap the Uninstall AutoRCM button. This way, your switch will boot to the stock OS every time, UNLESS you insert the jig and dongle and hold vol+ when you power up
#5.
If your switch is not booting, then this could mean one of two things.
1. The battery is dead in your Nintendo Switch.
2. The Pro dongle is not working
Again, we need to BE SURE your switch is powered COMPLETELY OFF
Remove the jig and Pro Dongle
push the power button one time. Then wait for 10 seconds, then PRESS AND HOLD POWER FOR 15 SECONDS
Now plug in the charging cable that came with your Switch and leave it on the charger for 1 hour.
After 1 hour has passed, go back to step 3 and try again. If you have returned here again, read on to step #6
#6.
Due to the possibility of a completely dead Switch battery, the next test would be to try this Pro dongle on a different Nintendo Switch.
There is no need to boot completely into SX OS, all you would need to do is get to the BootLoader Menu to confirm the dongle is working.
If you absolutely can NOT get the Pro dongle to work, then you will need to contact your reseller with any questions you may have about warranty.
If you are stuck at a black screen instead of seeing the BootLoader, then try sending
THIS PAYLOAD
using:
[Windows] TegraRcmSmash
[Android] SX Tools
[Linux] fusee-launcher
If using one of these methods to send the payload and boot into SX OS works, and your Pro dongle hasn't worked, then contact your reseller.
This guide will likely change as other tests and solutions are brought to my attention.
THERE ARE SOME ISSUES WITH FOLKS WHO HAVE ENABLED AUTORCM AND HAVE LEFT THEIR SWITCH IN RCM MODE SO LONG IT COMPLETELY DRAINS THE BATTERY.
BATTERY ISSUES SHOULD BE ADDRESSED IN A DIFFERENT THREAD.
Last edited: