So I stupidly plugged my X360S HDD into my pc and you guessed it it's no longer being picked up by the 360 as windows has f**ked the security sectors
now comes the task of recovery.
Got myself a used X360 USB PRO V5 from ebay, the seller said it is working and it shows up in devmgr normally as you can see here.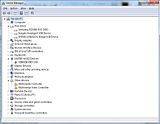 Now what I can't seem to do is get it to show up in the xecuter programs, I have so far tried X360USB USB HDD HACKER v0.21 and the firmware update tool and both say no device so I'm stuck here, I'm getting 2 green lights and the blue light flashes a couple of times at first.
Also is it possible to flash the 500GB security sector file back to the original hard drive (ST500VT0 00-1DK142) and it will work with the 360 again without losing data?
I have a sector by sector backup of the HDD in case I need to recover to another HDD then flash security sectors to it.
Thanks
Steve
Last edited: